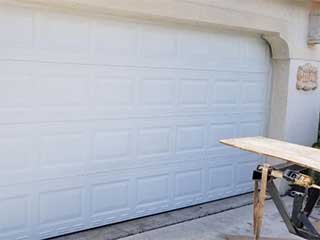 You take your car to the mechanic once a year to get it checked, so why not do the same with your garage door? You should look at getting this service done at least once a year, as it will help you ensure that your system isn't about to develop a major issue, and that all of its important safety features are all working correctly. Regular maintenance involves so much more than just a visual inspection, and it can save you money on preventable repairs down the line.
What Do We Look For?
When you schedule a preventative maintenance appointment, our technicians check your entire door, from the panels all the way down to the weather-stripping seals. After a thorough visual inspection, we make a list of the different minor repairs and tweaks that need to be made and then proceed to carry them out. We also test the balance of the door, to determine whether spring adjustment is required. This type of task can be very dangerous, so you should never attempt to perform it yourself. Another area we focus on is the opener. We'll test the safety sensors and the auto-reverse mechanism, and adjust them as necessary to ensure they're working without any issues.
The Importance Of Lubrication
No maintenance service can be complete without lubricating different areas that need a little help. Your garage door has a lot of moving parts, and because many of them are made of metal, friction is always going to be an issue. When all of these parts are properly lubricated, your door will open and close much more smoothly and relatively quietly. Our skilled service team will lubricate the hinges, the springs and the rollers, to name a few. We'll use the right type of product to do this, and not so cheap off-brand replacement that won't do the job correctly.
The Benefits of Regular Maintenance
Your garage door will definitely benefit from regular servicing, and so will your budget. While you can do a monthly maintenance check of some aspects of your door, an annual one is best left to the experts. When your door is properly aligned, lubricated and able to work more optimally, it will experience fewer issues, and won't require complex and expensive repairs as often, or at all.
Contact Us To Learn More
Our team here at Garage Door Repair Woods Cross is ready to take your call and make sure that your automatic system is able to do its job properly and safely. Don't wait for things to go wrong, act in advance to prevent potential problems.
But wait, there's more! We also offer:

Automatic Door Opener Replacement

Torsion & Extension Spring Adjustment

Commercial Garage Door Replacement

Galvanized Torsion Spring Replacement