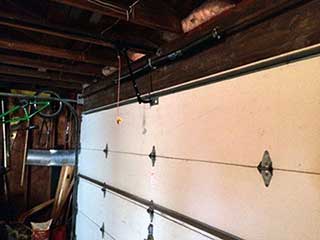 If you thought your garage door is able to open and close by some magical means, you'd be mistaken. The springs are what you owe your thanks to, as without them, lifting the heavy panels would be incredibly strenuous. However, these parts aren't invincible, and over time they will gradually degrade until they'll finally break. At that point, replacing them will be necessary, which is the type of task you should always leave to our professionals.
Why Are Springs Dangerous?
Because these units use tension-based force in order to help you or your opener lift the panels, dealing with them requires special tools and a lot of experience. When they are mishandled, they can cause serious injuries, as they can whip around wildly.
Which Type of Springs Do I Have?
Many garage door systems nowadays tend to prefer to use torsion springs, due to their enhanced durability and flexibility. However, these units require a certain amount of headroom space, and they may not be suitable for some door types and to some garages. Their counterparts, known as extension springs, are the older and more classic-looking units, which stretch and contract, as opposed to twist, in order to pull and lower the door. They are installed in a pair, and are considered more dangerous because of how they work, which is why they are often attached to safety cables that anchor them.
Don't Let Your Springs Break
Although these units do have a finite service life, there are things that can be done to extend their longevity. The professional maintenance service our company offers covers everything from lubrication to spring adjustment, both of which, when performed regularly, can make these units last significantly longer. Get in touch with our team here at Garage Door Repair Woods Cross, today to schedule an appointment. Be sure to call us if you need emergency spring repair or replacement services.
Need more? We also provide:

Damaged Parts Replacement

Garage Door Receiver Repair

Overhead Door Installation

Opener Sensor Replacement