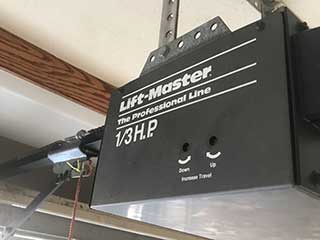 Every single part of your garage door system has an important role to play. However, when it comes to the automation of the mechanism, there's no part more important than the opener. This motorized unit is what allows your door to open and close without you having to lift more than a finger (to push the right button on the remote). Naturally, this device consists of many moving parts, and there are all sorts of issues that can affect it.
What Sort Of Things Can Go Wrong?
Well, for starters, a garage door opener relies on both mechanical and electrical components, so the range of potential malfunctions is quite vast. Motor gears can wear out or break over time, and the circuit board can fry or start glitching for multiple reasons. Even the photo eye sensors, which is what the unit relies on to detect obstacles and prevent it from closing the door on something or someone, can become misaligned, and fail to do their job properly. Whatever the problem, you can rest assured that our technicians possess the skills and the experience required to fix everything.
Should I Get a New Opener?
If your motor unit has seen better days and seems to require more and more repairs as each years go by, then definitely, it may be time to get a new opener installed. Actually, thanks to all the recent technological innovations that are available today, there are all sorts of features that can make it worth replacing your old opener even if it's still functioning somewhat efficiently. Things like WiFi connectivity and rolling code technology, which Genie and LiftMaster opener models have long since incorporated, can not only improve your home's security and safety level, they can also bring a lot of convenience to your day to day routine.
What Are The differences Between Different Opener Types?
Each and every model can have various minor differences; however, most garage door opener models can be divided into three categories, depending on the type of drive system they use. Chain drive models are cheaper and stronger than other types, but also louder and require more maintenance. Belt drive openers are far quieter, near silent even, but they're also more expensive. Screw drive units are the fastest of the three and also require the least maintenance, but they're also loud, and drastic temperature shifts can affect them. Ultimately, the decision comes down to the right type of unit for your specific needs, and the best way to decide that is to consult one of our experts.
Whatever You Need
Whether your opener isn't working and you're looking for some emergency assistance, or you in the market for a new modern model, our team here at Garage Door Repair Woods Cross will be more than happy to help. Get in touch with us today and let us know what you need us to do for you.
Count on us for:

New Garage Doors

Fix Rollup Door

Fix Garage Door Track

Cable Replacement