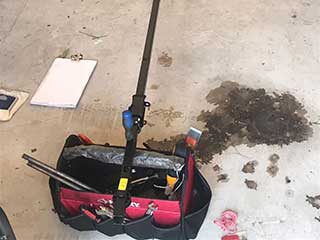 There are lots of ways that your garage door can break down. Springs can wear out, rollers can be damaged, and even the opener can malfunction. With more than a decade of experience in the industry, we're familiar with everything that can go wrong, and our technicians can quickly provide a solution to any issue.
When Springs Wear Out
Springs will inevitably wear out; the intense strain they're under every time the door opens or closes means they only have a service life of a few thousand cycles. When they start to wear out or break completely they need to be replaced by a trained technician – that's us! Don't try and fix them yourself, as they can be extremely dangerous and may cause serious injuries. We'll make sure your system is fixed as quickly as possible, and we even offer emergency same-day garage door spring repair services to keep wait time to a minimum.
Replacing Frayed Cables
Another common problem for homeowners involves the lift cables. Just like your springs, these components will wear out and weaken as time goes by. However, they can be difficult to spot, so it's important to examine them on a regular basis. Frayed cables must be replaced, since they run the risk of breaking unexpectedly, which can cause the door to slam down hard. Because our team always carries replacement parts with them, you won't be kept waiting - we can often carry out the required cable replacement on the spot.
Removing Dents From Door Panels
A dented door panel not only looks bad, it also compromises the unit's ability to adequately insulate and protect your garage. Our team can quickly repair this type of panel damage for you and ensure that the door's curb appeal is unaffected. Particularly severe dents, however, or more extensive damage, may not be so easy to take care of, and may require replacing the panel entirely. Because we work with all the major door manufacturers such as Clopay, Amarr and Raynor, we can supply a brand-name replacement very quickly, and ensure it's installed to our high standards. Your door will soon look as good as new.
No Problem Is Too Big
Our team has worked on every make and model of door there is, and we've solved every issue imaginable. Don't hesitate to get in touch with our experts at Garage Door Repair Woods Cross today and we'll quickly fix whatever problem you're dealing with.
We also offer the following:

Emergency Garage Door Repairs

Residential Garage Door Repair

Garage Door Panel Replacement

Garage Door Weather Stripping